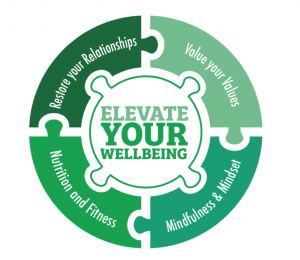 Have you ever asked yourself…
"Why don't my New Year's resolutions to Elevate my Wellbeing, ever eventuate?" The simple answer is… We often make decisions without planning any action steps.
(A goal without a plan is just a wish).
If wellbeing is a goal for you this year, this workshop will enable you to set your wellness intention, make a decision, and inspire you to take the necessary action to success.
This Workshop is best suited for anyone who wants to take their own wellbeing to the next level, and then to enable others to do the same. It comes inclusive with Heather's recently released, No.1 Best Seller book she has co-authored, 'Elevate your Wellbeing.'
You will pick up the tools you can use to:
Live your life by design rather than by default.
Value your values & live in alignment with them.
Integrate and balance your mind, spirit, body and emotions to be in harmony with each other, so as to maximise optimum wellbeing.
Manage stress with mindfulness.
Discover a simple way to meditate your way towards wellbeing.
Set specific intentions and actions towards developing and maintaining daily nutrition and exercise habits.
Be intentional in your relationships rather than allowing fears and emotional allergies to govern your life.
Replenish and restore your important relationships so they can be a resource for your own wellbeing and the wellbeing of others.
Facilitator: Heather McAlpine
Heather is a Relationship Therapist and Supervisor of Counsellors and Educators in private practice, Kiama. She is also a published author, Consultant in team building, conflict and stress management. Heather was Clinical Co-ordinator for Relationships Australia, Illawarra for 8 years, where she led the Counselling and Relationship Education teams and was involved with training, supervision, group work, creative seminars and the media. Heather was awarded a Winston Churchill Fellowship to study Marriage and Family Education in the UK and US. She is a public speaker and popular presenter on topics such as 'Hot Monogamy', 'Do you wanna make up?' and 'Leaping Relationship Hurdles'. Together with her husband, John, she has been leading 'Marriage Getaways' in Australia, Uganda, South Africa, India and Sri Lanka for over 30 years. They are Chair Couple and Trainer Couple for 'Better Marriages Australia'. They have 3 adult children and twin grandchildren. In her 'spare' time Heather enjoys long distance cycling, sustained by dark chocolate!