Have you ever wondered why marriages often break down more at the 1-year mark, 7-year mark and 30-year mark?
In my work with couples over the last 3 decades, I've discovered:
There are 3 core problems that married couples face today…
1. We live in a throw-away society
If things don't work, many times we toss them out and get a new one. Often, we see relationships in the same light.
2. We become complacent
We put our marriage on autopilot or cruise control, and we set and forget.
This means you're not ready to cope with any sudden changes in your life circumstances and also, you're very slow to react when you're faced with challenges)
3. We fail to be intentional in developing couple friendship and goodwill
In the busyness and often chaotic pace of life we can forget the importance of this. It is a powerful resource that can be used during difficult times.
When couples are able to overcome these problems, they are able to face the curveballs that life throws.
You feel equipped as a team because you've planted a sturdy foundation of friendship and fertilised it along the way.
For those of you who haven't met John and I before…
39 years ago, we had the first year of our marriage and it was by far, the worst year of our marriage. We found the adjustment to marriage the hardest adjustment we'd ever faced.
John went from living in the hospital quarters where he had a maid in a blue uniform to pick up his underwear from the floor, to being married and (whilst not expecting me to take upon this role), had sadly had not learned the art of picking up after himself.
35 years ago, after being trained to be Better Marriage Leaders, we found ourselves running our very 1st Marriage Enrichment retreat in South Africa.
We were nervous, fresh and inexperienced but believed we had an important message to share.
Deciding to be intentional to grow in our marriage was important for us…and it was the beginning of us working together as a team to help others who desired the same.
15 years ago I was privileged to be awarded a Churchill scholarship to visit the US and UK to research from gurus in the marriage education and counselling field.
It's with this marriage input into her life as a therapist and educator, together with the journey of growing our own marriage, that we share what we've discovered and what we've learned through our own ups and downs.
A wedding is a great day, but it is not a marriage. It is an event, beautiful but a once-off.
Your marriage, on the other hand, is an ongoing journey, under constant change.
You are different people in different life stages with different life visions.
Our marriage is different to how it was 30 years ago, 20 years ago, 10 years ago, 1 year ago or even last week.
Sometimes we can be stuck in autopilot and avoid learning and discovering new things about each other and being open to change.
We are indeed often stuck in a time warp in our relationships.
How do you develop a solid long-lasting friendship?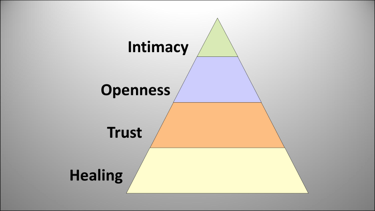 Triangle Intimacy is your destination, but it depends upon your willingness to remain open.
Openness enhances intimacy, but the degree to which you're open depends on your level of trust.
Trust is built on your ability to heal past hurts.
Healing is the foundation for intimacy, so our wounds don't barge into our relationship through every nook and cranny.
But it's also continual healing for all the times we stuff up.
As we look at fostering friendship, we can see the need for forgiving each other and developing trust.
This is a beautiful equation to remember if we want a beautiful marriage.
Trust + openness = emotional intimacy = friendship
As a relationship counsellor, I often have couples come in saying "I just don't trust him/her. I can't keep going without trust…"
Often people think that we trust others because they did something great and noble for us. Or we distrust them because of some nasty incident. That is a small part of it.
But trust is also the sum of small gestures, kind words, confidences kept, and other everyday actions.
Distrust isn't (usually) about soap-opera-worthy bad behaviour. It's about a pile-up of little failings.
In other words, if you want to build trusting relationships, you need to do small, good deeds every day — and avoid equally small slip-ups that lead to an empty jar of trust.
Trust reminds me of going to the dentist.
Imagine if you no longer brushed your teeth and that the only dental care you did was visiting the dentist twice a year. Soon your teeth would decay and fall out.
It is not the memorable events that count but the daily teeth brushing. Every time you brush your teeth you don't notice any change, but small actions, done consistently make your teeth strong and last the distance.
In our marriages, we have daily opportunities to build trust or to betray the trust of our partner.
In fact, when we choose not to connect when the opportunity is there it's a moment of betrayal.
So, we trust those friends and loved ones who have built up a store of trust moments with us.
Charles Feltman has an interesting definition of trust, which is
"Trust is choosing to make something important to you, vulnerable to the actions of someone else."
Trust for me is being able to feel safe in John's presence.
Feltman says that distrust is- "what I've shared with you that is important to me is not safe with you".
Brene Brown in her book 'Rising Strong' states that when we trust, we are braving connection with someone.
A definition of insanity is doing the same thing over and over again and expecting a different result.
Often in our marriages, if something is not working, we try it again with more emotion or more frequently.
Let's reassess how we relate as couples.
Let's grow in trust and goodwill.
Let's foster friendship in our marriage.
There are many other ways we can learn to communicate more effectively in our marriage to enrich and restore the relationship.
Does your marriage have challenges you'd like to solve?
Or is your marriage going well, but you'd like to bring in even more harmony, love, and connection?
We'd love you to join us on our Couples Getaway Weekend coming up in September.
It's a deep-dive into how to keep your connection, love, and romance alive.
John and I have been running marriage seminars for over 30 years in multiple countries. We love helping couples have stronger, healthier and more loving marriages.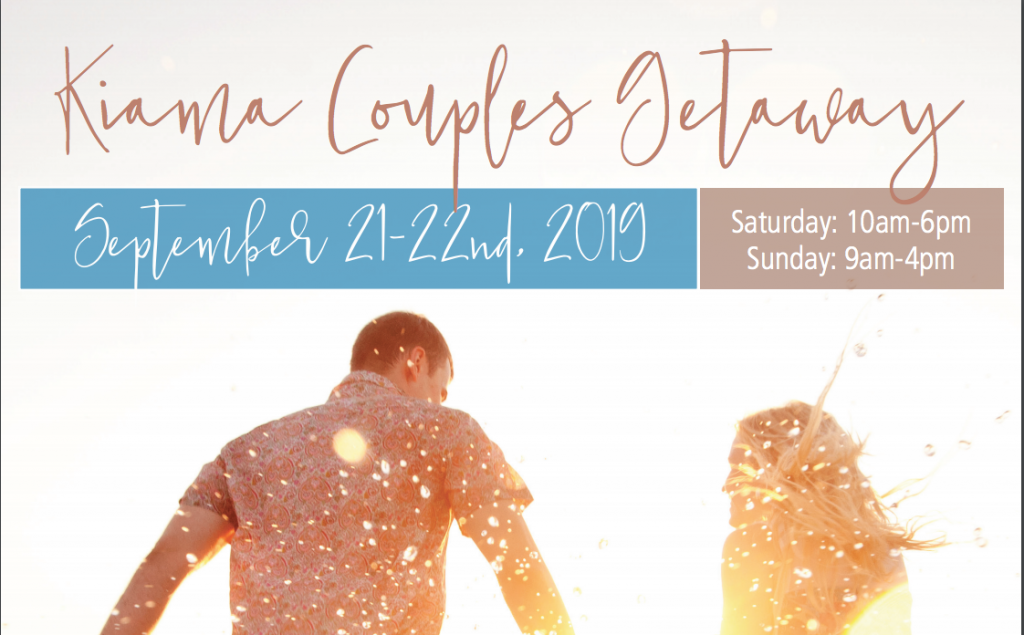 We'd love to see you there!
Heather